In Person Boutique Training With Kaya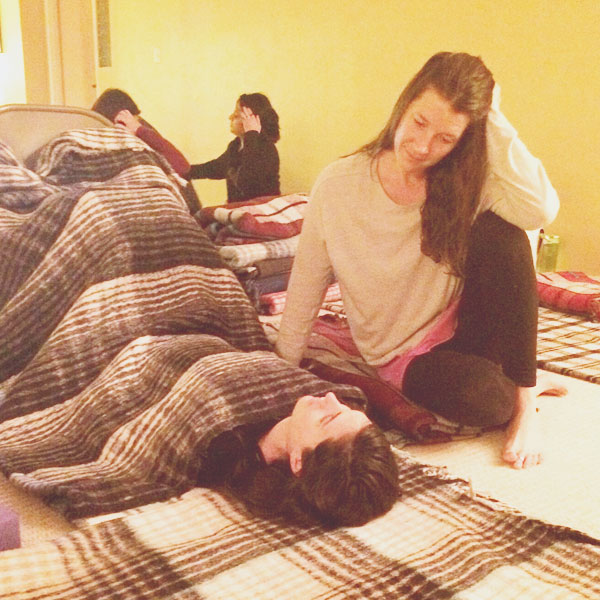 About In Person Training
You are looking for deeper yoga trainings that expand your therapeutic skill and boost your capacity to earn a living for work that goes far beyond mainstream yoga.
Trainings in high-touch offerings, simply must be high touch.  Our precious time in one another's presence is the classical way to learn healing techniques. As you delve into the direct experiences of profound yogic tools, you are emboldened to teach from a place of deep inner experience and integrity. Wonderfully, this means more healing and transformation for YOU on your path to learning to support others in their healing and transformation.  
Learn tool-based yoga therapies, traditional Vedic philosophy for the modern yogi and practical business skills.
Boutique In-Person Trainings with Kaya emphasize 4 key pillars
–  
Hands-On SRY tools – learn and practice hands-on therapeutic tools in the Spinal Release Yoga approach to releasing spinal tension

Systematic and Holistic Pedagogy – engage in kinesthetic, tactile, auditory and visual learning capacities with a methodology for teaching teachers that allows you to successfully learn, digest and apply the material in the real world.

Healing the Healer – retreat-like immersion in the techniques heals YOU while you simultaneously learn to apply those tools to others

Sharing Sangha – your community of supportive yogis grows and deepens as you spend several days learning, partner pairing and healing together.
Kaya's Approach

"Kaya's programs for teachers are beautifully designed – significantly layered for depth yet simple and clear which has the student become experienced and confident in the material offered. Her approach is order yet natural and generally excellent in all ways."
Jen, SRY Teacher and Gyrotonic Teacher

Every Training Get's Better!

"Your presence is delightful, caring, easy to follow. The information is delivered in a way that allows for processing (not too fast or slow) and is filled with a light sense of genuine humor and deep wisdom. I appreciate the handouts to refer to later on with my extra notes from lectures. Every training I take with you Kaya just gets better!"
Jackie, SRY Teacher and Pilates Teacher
A Grounding and Soft Experience

"Kaya's has a soft but grounding presence. She holds a nurturing space for everyone that invites us to surrender into the asanas, into the breath, and into ourselves. I love her concise and simple directions. I love how she weaves teachings of the Sutras, Vedanta, and Upanishads into her teaching. They don't feel random, but rather, very integrative"/span>
Elaine, Yoga Therapist in Training
– Transform your life through deep healing and learning. –