Supreme Release Yoga Therapy Training with Kaya
Whidbey Island | Washington State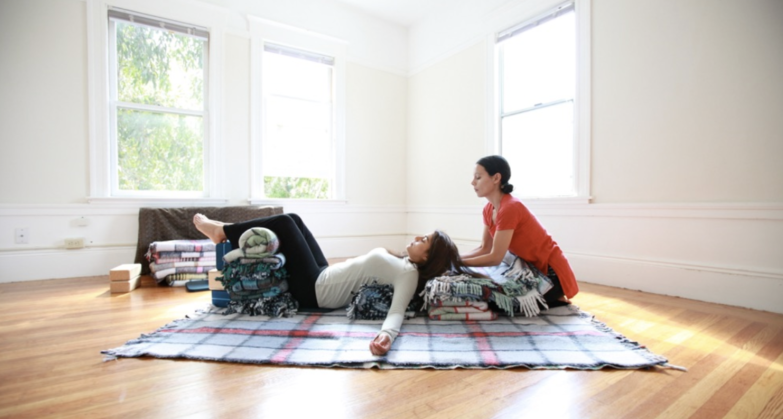 Learn Level 1 of SRY Hands on Yoga Therapy with Kaya. In this retreat-like training you'll give and receive more than 4 sessions + learn detailed pedagogy to provide hands-on yoga therapy healing to others. 
In this combination training + retreat, you will learn, give & receive SRY Yoga Therapy sessions, enjoy sattvic & gluten free meals prepared by a personal chef, and forge new connections with fellow participants in a picturesque setting.
Acquire valuable tools in an immersive experience that equips you to effectively address physical and mental discomfort with others, surpassing the benefits achievable in home practices or group classes [as well as such approaches as massage and physical therapy]. 
Learn the art of targeting specific areas of the spine through hands-on techniques, supported props, and gentle physical manipulation, providing your clients with profound relaxation and a sense of bliss.
Deepen your understanding of session sets designed for continuous healing and empowerment in one-on-one yoga sessions. These highly effective release techniques will equip you to support your clients on their wellness journey.
Indulge in the culinary creations of personal chef Samantha Switzer, whose exceptional love and expertise in crafting nutritious, healthy, and organic meals will nourish your body and soul.
Stay in a beautiful environment – a ferry ride away from Seattle, surrounded by Sea air and Pacific North West rainforest.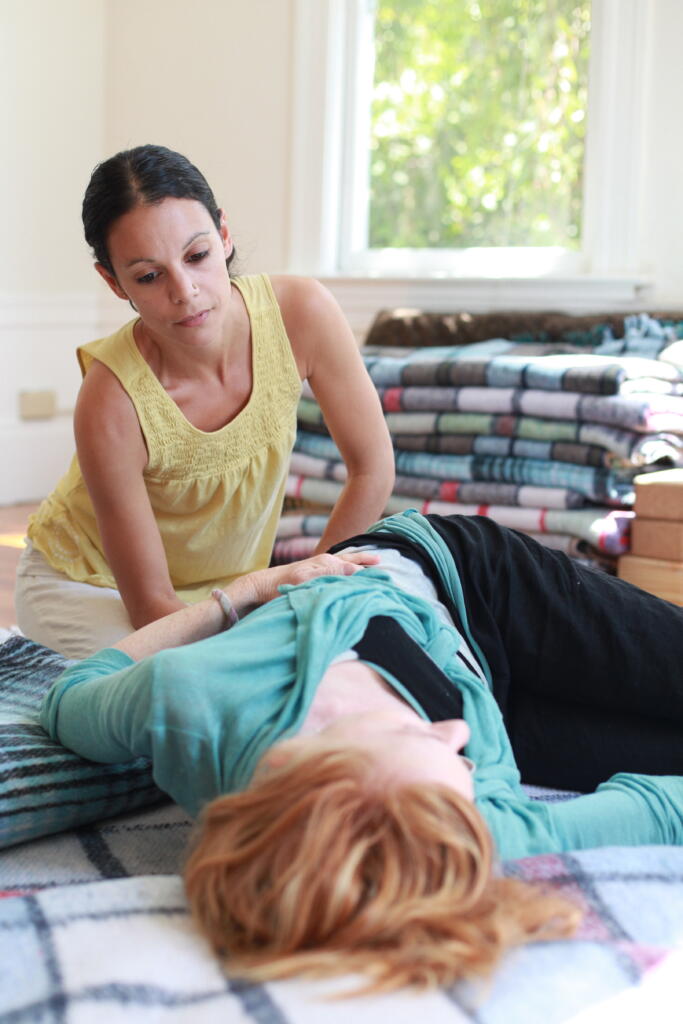 Learn several session sets that can be mixed + matched to create even more!

Explore the difference between "trauma-sensitive" and "healing"

Explore the difference between "fixing" and "healing"

Explore a simple and powerful tool for helping students understand their mental pain according to the four aims of life.

Give and receive multiple sessions to get experience + your own healing!

Learn how to touch and how not to

Develop your skill for being responsible but "out of the way" so the release can unfold
Prerequisite: SRY Fundamentals [or equivalent] + a personal invitation from Kaya
To ensure an intimate and personalized experience, space is limited for this retreat. Don't miss out on this opportunity—reserve your spot today and embark on a transformative journey of self-discovery and connection.
After this SRY yoga immersion, you'll be able to guide small or private yoga clients through deeper spinal opening than you can do in a regular class or lesson. 
"Kaya's knowledge is vast and her communication is so clear, her presence so unencumbered by personal issues or needing validation from her students, that the teaching is extremely accessible. She's totally organized and calm, clearly in her element and the pace is measured - never rushed but never lagging. She is aware of everyone as individuals and of the whole group at the same time. The whole experience allows for as easeful as possible a download of both the intellectual information and the energetics of the teaching that's coming through."
Whidbey Island is a short ferry ride from the Seattle International Airport.
To make your travel as effortless as possible, a regular shuttle service is provided at Seattle Airport, connecting you directly to the ferry terminal.
The shuttle service operates consistently, ensuring you can catch a ferry every two hours.
Sit back, relax, and let the transportation take care of getting you to the island.
Once you arrive on Whidbey Island, we will handle your transportation needs. You can focus on immersing yourself in tranquil surroundings and embracing the transformative experience that awaits you.
Moreover, we have reserved a stunning location for this training retreat. Prepare to be captivated by the beauty and serenity of the venue, which has been thoughtfully selected to provide the ideal setting for your growth and learning…
Comfortable lodging from Thursday night through Sunday night
All meals beginning with dinner Thursday, and ending with dinner Sunday.
Transportation once you get to Whidbey Island.
Three full days of teaching with Kaya.
Transportation to/from Whidbey Island. Fly to SeaTac airport. Round trip shuttle is $112 (as of 2023). For more info on the shuttle service, visit this link.

Langley/Clinton is the drop off site. We will pick you up there.
Single occupancy room – $2100
For those who attended this in person hands on program with Kaya in California – $1800
Financial Aid / Shared occupancy room with shared bath – $1500 (Limited to 3 spots, please email to apply.)
A $500 non-refundable deposit is required to hold your spot.
Payment in full is due one month before the scheduled retreat.
Payment plans for tuition can be arranged if needed.
No refunds unless the retreat is canceled. 
Choose one of the buttons on this page to learn more & pay your non-refundable deposit of $500.
Email us for any special requests you have such as a shared room or payment plan: email: kaya@yogawithkaya.com
We will send you additional info you will need to know when making your travel arrangements.
Class begins bright and early Friday morning after a nourishing breakfast. Dinner will be provided Thursday night for hungry travelers, please arrive on April 11th and enjoy a simple dinner, company and a good night rest before the program starts.
More about Whidbey Island...
Nestled in the beautiful Puget Sound region of Washington State, Whidbey Island offers a picturesque backdrop of stunning natural beauty and a tranquil atmosphere that is perfect for rejuvenation and self-discovery. The island is known for its lush green forests, rolling hills, pristine beaches, and breathtaking views of the surrounding waterways. As you step foot on the island, you'll instantly feel a sense of calm and serenity that will set the tone for your transformative experience.
Things to do on Whidbey Island:
Earth Sanctuary – 70 acres of forest with sculpture installations, an indigenous prayer site to participate with in silence, Buddhist stupa, labyrinth, and more… one of Kaya's favorite places

https://earthsanctuary.org/

 

Explore Deception Pass State Park: Hike through scenic trails, marvel at the breathtaking views from the Deception Pass Bridge, go beachcombing, or take a kayak or boat tour.
Discover Ebey's Landing National Historical Reserve:  Take a leisurely hike along the bluff trail, visit the historic buildings, and learn about the island's rich history and agricultural traditions.
Enjoy the beaches: Whidbey Island is known for its beautiful beaches. Take a stroll along the sandy shores of Double Bluff Beach, Penn Cove, or Joseph Whidbey State Park. 
Visit the quaint towns: Explore the charming towns of Langley and Coupeville (Washington state's second oldest town). Wander through their historic downtowns filled with art galleries, boutique shops, and eateries. Langley is also known for its performing arts scene, so catch a show at one of its theaters.
Take a whale-watching tour: Whidbey Island is a great spot for whale watching. Join a guided tour to see majestic whales, such as orcas, humpbacks, and gray whales, as they migrate through the nearby waters.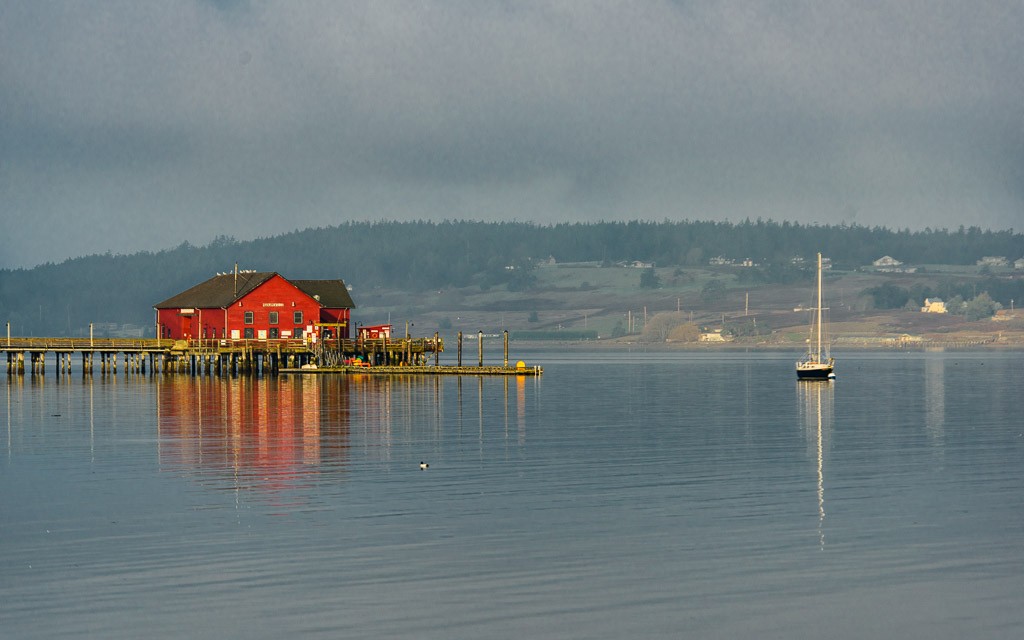 Olympic nat'l forest – 2.5 hours away from Whidbey. Old-growth rainforest, sacred rivers, lakes & sol duc hot springs.
Vancouver Island and beautiful Victoria – 3 hours from Whidbey Island. Home of the beautiful Butchart Gardens, the iconic Inner Harbour, and a delightful selection of restaurants and boutique shops.
Vancouver Canada – 3 hours. A dynamic and cosmopolitan city nestled between the majestic Coastal Mountains and the sparkling waters of the Pacific Ocean. Renowned for its natural beauty, cultural diversity, and thriving arts scene.
Beautiful San Juan Islands – 1 hour. Located in the picturesque waters of the Salish Sea in Washington state, this cluster of approximately 172 islands offers a serene and idyllic escape for travelers. 
Port Townsend – ferry from Whidbey [this is where Kaya lives]. Known for its well-preserved Victorian architecture, picturesque waterfront, and artistic community, Port Townsend offers a delightful blend of history, culture, and outdoor exploration
After this three-day immersion, you'll be able to do profoundly healing one-on-one sessions with yoga clients who are seeking release and relief from pain, stress, and tension on all levels, and you'll drastically increase your ability to earn a living doing what you love! 
Gain direct experience & detailed pedagogy to guide others through SRY practice. You'll leave clear, inspired, and confident with effective tools to help yourself and others with spinal release yoga that gathers the inner nectar of bliss, satisfaction, and rejuvenation.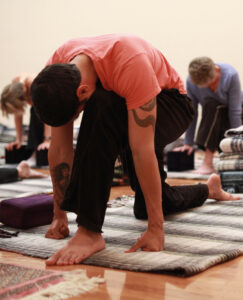 SRY Hands On Yoga Therapy Level 1
All spots for this teaching have been filled. To join the waitlist, fill in the form at the bottom of this page. 
"Kaya is a teacher to her core! She is steeped in knowledge and combines that knowledge with the artistry of teaching that is a God given gift and not something you can learn from a book. I walk away from every program inspired and empowered. I see the tremendous benefit in my personal life and those I teach as I apply her teachings in my personal and professional life. I am deeply grateful to have such a master teacher in my life!"