Supreme Release Yoga Fundamentals Program
A Practical Training for Teachers and Dedicated Yogis
Hey, Yoga Teacher... have you been tempted to share SRY with your students? I get it!
Learn to teach Supreme Release Yoga (SRY), an intimately healing practice that can resolve pain, connect to yoga's purpose and change lives from the very first experience.
Dive into the practice and pedagogy of the most fundamental SRY poses for personal practice and teaching. After this immersion, you'll practice confidently on your own, and have clear tools to guide groups or individuals through an authentic practice that reliably releases tension, resolves pain, quiets the mind and seats one in the true purpose of Yoga.
Who is this program for? SRY Fundamentals is open to anyone. Yoga students who wish to deepen their practice or learn to share SRY with loved ones, yoga teachers, yoga therapists or healing practitioners of any modality can gain SRY as a therapeutic tool for supporting others. SRY Fundamentals Grads are eligible for continuing SRY trainings with Kaya
The program constitutes 20 Contact Hours with Kaya:
Monday, September 25th
Self paced teachings + practice [3 hours]
Tuesday, Sept. 26th
Live SRY practice with SRY Studio 10am-11am PST

Live Q&A 11am-12pm PST

Live SRY Practicum 1pm-5pm PST
Wednesday, Sept. 27th 
Self paced teachings + practice [3 hours]
Thursday, Sept. 28th 
Live SRY Practicum 10am-12pm PST
Live SRY Practicum 1pm-5pm PST
Friday September 29th
Self paced practice [2 hours]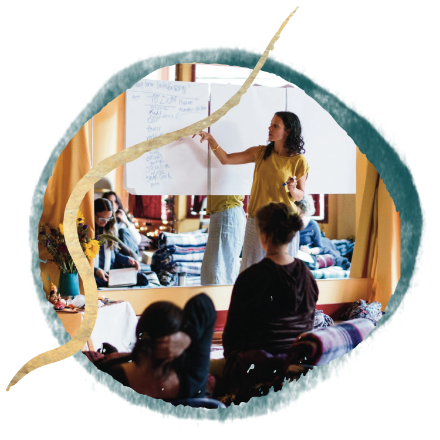 Prerequisite: Min 2 month SRY Studio membership (not included)
CEU: 20 Hours Continuing Ed for Yoga Teachers
Pedagogy of the most important SRY practices

Purpose and effects of each āsana

Sequencing personal practice, group class and private session

Propping for different bodies

Alignment for effective release 

Mixing SRY with other forms

Yogic communication skills to help students see the value of slowing down, doing less.

Deeper understanding of the true purpose of Yoga and how it fits the

 

SRY model of practice.
Register for ŚRY Fundamentals
Live + Self Paced Program
September 25-29, 2023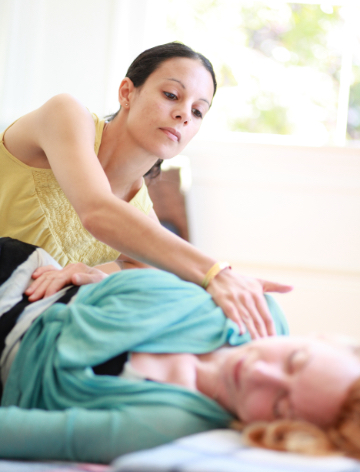 Learn to Teach Supreme Release Yoga, or deepen your understanding for your personal practice!
Gain direct experience and detailed pedagogy to guide others through SRY practice. You'll leave clear, inspired and confident with effective tools to help yourself and others with SRY and that gathers the inner nectar of bliss, satisfaction and rejuvenation.
SRY is a replenishing, compassionate, blissful, healing and transformative approach. It goes far beyond Yoga for physical wellbeing, weaving together the full spectrum of the Vedic viewpoint.
SRY offers an effective framework that peels back the layers of misperception of Yoga to reveal the meanings behind the practices. What comes is compassionate clarity — free from rigidity — that allows each person to experience the nectar of Yoga in daily life.
Register for ŚRY Fundamentals
Live + Self Paced Program


September 25-29, 2023
Learn tool-based Yoga therapies, traditional Vedic philosophy for the modern yogi and practical business skills.
We emphasize four key pillars
Individualized 
Learn adaptable and therapeutic tools in the Supreme Release Yoga approach to releasing spinal tension that can be applied in diverse settings for diverse people
Holistic Pedagogy
Experience a spectrum of learning methods – story, song, practice, teaching pedagogy and theory that allows you to successfully learn, digest and apply the material in the real world.
Healing the Healer
Direct practice and experience comes first. The techniques impact YOU while you simultaneously learn to apply those tools to others.
Sharing Sangha
Your community of supportive yogis grows and deepens as you spend time learning, partner pairing and healing together.
Words from SRY Fundamentals Grads
"I love how Kaya has a plan when she teaches that takes us on a clear journey. She is by far the best yoga teacher trainer I have experienced. She has high expectations for her students and wants us to learn her techniques and be confident in our teaching. She is amazing."
"Kaya's programs are so rich in content, practice, philosophy, ethics and deeply rooted in the tradition and meaning of what yoga is. I feel so fortunate to have her as my beloved teacher. It is hard to put into words the depth of my gratitude. She has been a loving presence who accepts all of me. Thank you for modeling for me what it means to lead a yogic life and to have the bhava of a teacher."
"Training with Kaya is as comprehensive as yoga programs can get. Deep, illuminating, intimate and transformative, as well as practical and applicable to real life teaching. It's hard to imagine it being done better."
"Dearest Kaya, I just wanted to send a note of great gratitude for your time and teaching this past weekend. Though it was virtual and a new format for this training, it felt like a perfect offering and the space felt more shared and intimate than many others I've been in (both in person and virtual), because of your supportive, gentle, and wise nature, and because we were all given enough space to be seen and heard. I look forward to continuing to study with you; more practice principles, posture intricacies, mining my own experience for the subtle satisfaction of simply being - it is a wonderful path to continue to follow! Thank you again, for all that you share. Much love."
"This practice has an immediate effect. I feel it changes, softens me from the inside. It is a feeling I have been looking for many years and now finally found it. Thank you for This blessing! It is such an honor to have you as my teacher."
"Kaya is supportive, clear, concise, organized and explains things easily. I love her format of experiencing the practices first, then diving into the teachings and information. Makes things very practical and easy to learn."
Register for ŚRY Fundamentals
Live + Self Paced ProgramSeptember 25-29, 2023