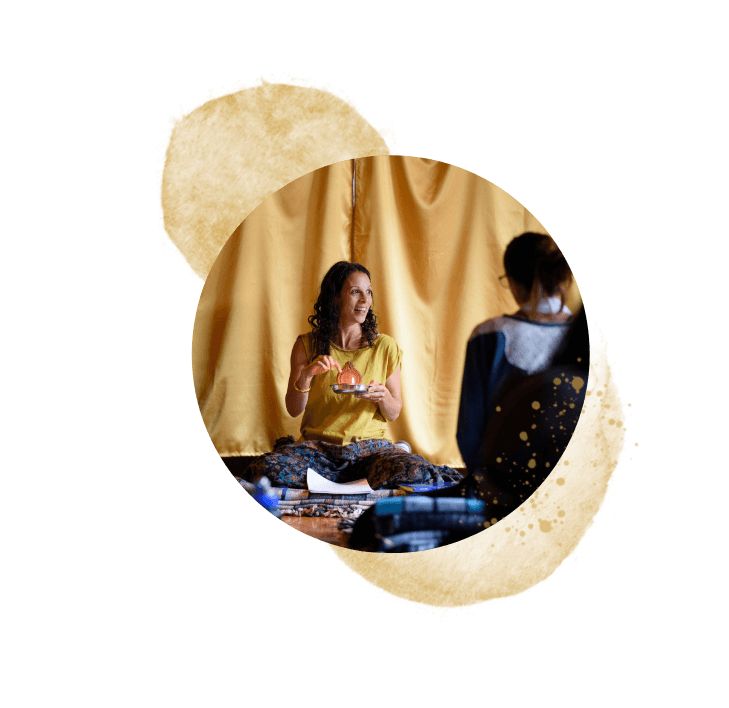 to the wisdom & practices that you've been seeking all along!
Here you'll access:
Nourishing practices for profound healing and personal growth

Timeless and

transformative teachings

rooted in traditional Vedic philosophy, made accessible for modern life & presented with warmth, humor and compassion

Powerful pedagogy

that brings your teaching to the next level
Join me in timeless methods that dismantle old conditioning of body and mind and reveal the truth of being.
Together

we uncover your supreme Self with deep knowledge and soft practice!
"Kaya is a gifted soul who shares yogic teachings with such precision and expertise. I'm almost brought to tears, learning timeless wisdom and our true nature, it cuts deep and feels so truthful. It's as if there is a truth that's inside you and it's waiting to be acknowledged. So when I'm in the presence of somebody like Kaya who's dedicated her life to these teachings and sharing this wisdom, transforming people's lives, it really awakens that infinite part of me. I find it to be so inspiring. If you are into yoga and timeless truths, study with Kaya."
Celebrating the Feminine Divine through Stories, Mantra & Teachings
In this three part program, Kaya will share the tantrika tradition of the feminine divine. Each day is dedicated to Dūrga, Lakṣmi and Saraswati invoking the sacred themes of transformation, nurturance and wisdom that can deepen your yogic practice and your life in every moment. 
Starts October 7! Taught online & recorded
Nourishing practices, transformative teachings, powerful pedagogy.
Gentle, deep & Authentic Yoga
Kaya's Supreme Release Yoga emerges out of yoga's profound teachings and principles. The gentle & transformational practices reveal blissful states within.by nourishing and decompressing your spine in accessible ways.
Each Supreme Release Yoga is part of a theme, unfolded with nuance, and an understanding that "yoga teaches you to love yourself, starting with the body",
"Thank you so much for the gift of these sacred teachings. You have had an incredible impact on my life in this relatively short time. You radiate incredible confidence, wisdom, and kindness. In my time studying with you I've felt myself mature, but even more special to me, I've felt that I am beginning to mature as a teacher of yoga. I have so very much to learn, but having a teacher like you gives me great excitement to continue studying and following this path. Thank you for everything you have done for me, I am so grateful."
Online Training
for everyone
The Bhagavad Gita is essential for modern yogis because it delivers the most complete set of supreme teachings. Not delivered on a serene mountain top, but right in the center of the complicated, conflict-ridden life of a householder living in a world with real responsibilities and pressures.
Open Enrollment through September
Join Live or by Recordings!
Listen to teachings and insights in conversations.
"For the rest of this lifetime you will be named as 'my teacher' and to be able to share the teachings with my students brings tears to my eyes. My gratitude will never be able to be expressed in words. Thank you, thank you, thank you."
We come to yoga hungry for healing, wisdom and transformation.
Popular yoga is often limited to athleticism, achievement or aesthetics – whereas true yoga is a nectar that heals the pain of the human condition at its root by transforming your viewpoint, revealing the supreme essence of your being, and leaving you deeply self-satisfied and available for your life.My purpose is to weave a rich tapestry that honors the Nectar of Yoga's promise so that you can sweetly transform your practice and life. 
Love, Kaya
A Note on the Nectar of Yoga