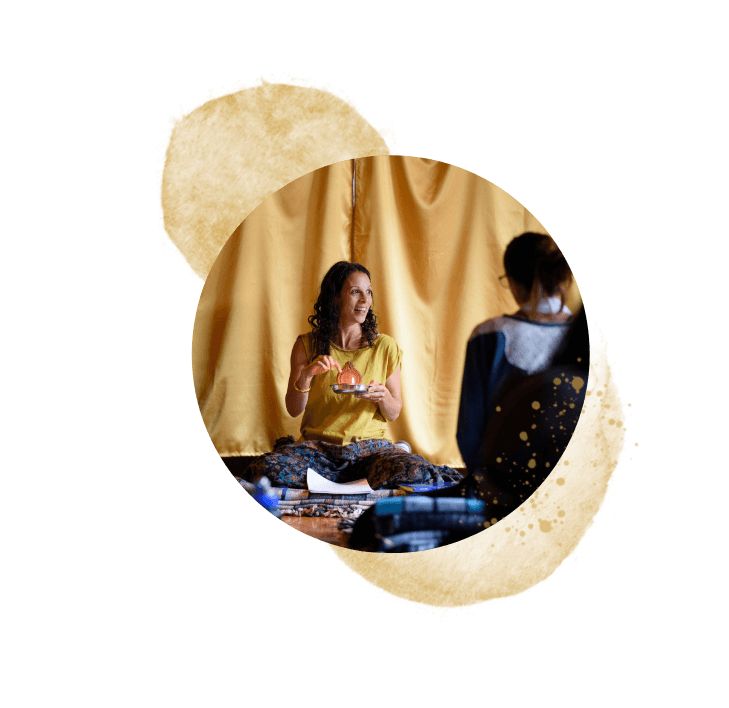 to the wisdom & practices that you've been seeking all along!
Here you'll access:
Nourishing practices for profound healing and personal growth

Timeless and

transformative teachings

rooted in traditional Vedic philosophy, made accessible for modern life & presented with warmth, humor and compassion

Powerful pedagogy

that brings your teaching to the next level
Join me in timeless methods that dismantle old conditioning of body and mind and reveal the truth of being.
Together

we uncover your supreme Self with deep knowledge and soft practice!
Online Training
for everyone
The Bhagavad Gita is essential for modern yogis because it delivers the most complete set of supreme teachings. Not delivered on a serene mountain top, but right in the center of the complicated, conflict-ridden life of a householder living in a world with real responsibilities and pressures.
begins july 2021
Join Live or by Recordings!
Nourishing practices, transformative teachings, powerful pedagogy.
Meditative states revealed
4 WEEK YOGA SERIES
You don't have to force or coerce your body and mind into meditation. 
This Supreme Release Yoga series explores gentle & blissful practices that reveal meditative states naturally.
Each Supreme Release Yoga practice in the series will gently decompress your spine and then culminate with selected āsanas that have hypnotic and blissful effects so delicious you won't want leave.  These practices "drop you off" within.  
Starts August 3


Join the SRY Studio Anytime
Listen to teachings and insights in conversations.
We come to yoga hungry for healing, wisdom and transformation.


Popular yoga is often limited to athleticism, achievement or aesthetics – whereas true yoga is a nectar that heals the pain of the human condition at its root by transforming your viewpoint, revealing the supreme essence of your being, and leaving you deeply self-satisfied and available for your life.My purpose is to weave a rich tapestry that honors the Nectar of Yoga's promise so that you can sweetly transform your practice and life!
Love, Kaya
A Note on the Nectar of Yoga