Kaya's masterful and lovingly delivered expertise supports you to uncover your innate wholeness and cultivate a deeply satisfied self. Discover the softer side of yoga through an approach that favours feeling over forcing and receive traditional Vedic teachings in ways that are truly meaningful for modern life. All Kaya's programs can be counted as Continuing Education Units with the yoga organization, association or registry of your choice.
Learn yoga the modern way: get teachings on yogic practice and philosophy in your own time and space. Online programs range from 2 hour mini-courses in Ayurveda, Yoga and Mantra to extended programs for Continuing Education or Personal growth such as her Yoga Nidra training or Yogic Philosophy Program.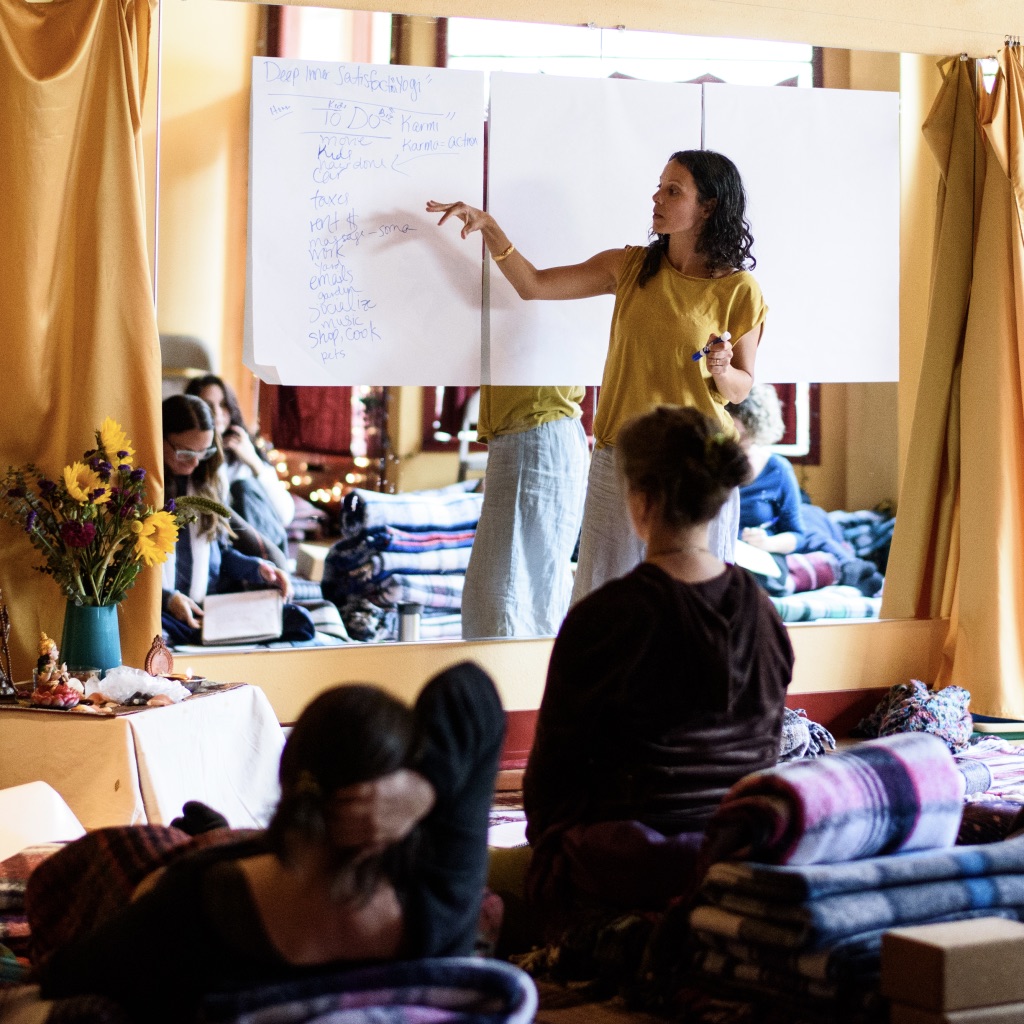 Vedic Counseling, Mentoring & Yoga Therapy
Direct and personalized support in any aspect of your life, Health or work.
Get profound personal, wellness, spiritual, or professional growth through a consistent, attentive, and personalized Vedic counseling or mentoring relationship with Kaya. Bringing the full spectrum of the Vedic tradition and nearly 20 years' experience teaching and living a yogic life, Kaya's insights and strategies catalyze therapeutic transformations in your body, mind, work, relationships, and life.
Kaya only takes on a handful of clients each year so she can focus her full attention on your struggles and dreams. Whether through the Vedantic viewpoint, Ayurveda, yoga therapy, pedagogical teaching skills or business acumen, Kaya is adept at resolving issues at their root, applying her experiential wisdom and time-tested approaches to deliver the deep transformation you've been longing for.
The past 19 years of teaching have been an unfoldment of love. Every moment I get to share the Vedic wisdom that my teachers so generously offered me is a gift. I realize that the opportunity I had – 12 years of immersive yogic study – is rare and unlikely for most. Yet we all have the same hunger for wisdom and transformation. For this reason, my programs reflect the Vedic teachings I received in a way that's deep yet accessible, nurturing yet empowering, and comprehensive yet easily assimilated by students. My aim is that you gain knowledge and experience that is practical, profound, and easily integrated into your own life.
Sign up here and recieve a guided Yoga Nidra recording