Tea & Jyotish - May 14, 2023
Uncomfortable Evolution of the Soul
In this bonus tea & jyotish session, Kaya gives an overview of the patterns of several key configurations influencing us in the months to come. Throughout, she provides suggestions, recommendations for how to gather the good from this time and how to avoid pitfalls and stay balanced. How these configurations individually express will depend on your horoscope. Please contact Michael Manzella for one on one consultations at www.JyotishResolution.com 
00:01 – Of Boons & Curses, 

Omens & Special Welcome to the youngest ever student in Kaya's classes 

03:30 –  Invocation to Gaṇapati & Verse to the Divine Mother

08:30 – Overview of this session on Saturn, Jupiter, Rahu & Mars 
14:00 – Saturn in Satabhisha – the Realm of 100 Healers & Suggestions for this Time – Jan 2023-Jan 2024
25:00 – Jupiter starting a new 12 year cycle
30:44 – Note for those who do Healing work for Others
32:15 – Jupiter in Fast Acting Aries for this year until April 2024 – Take time to Reflect and then Take Wise Action
36:30 – Jupiter with Rahu in Aries through October 2023 – Time to approach with Care & Dharma
52:00 – Saturn as an anchor at this time – Remember Dharmic Discipline
54:00 – Mars, weak in the sign of Cancer
1:05:00 – Overview of Remedies for this time
Anything you would like to share with Kaya about your experience of listening to this Tea & Jyotish session? Any big aha moments, insights, intentions for yourself?
00:25 – Moon Nakshatra placement in the Shatabisha
02:45 – Staying in step with cosmic order
05:30 – Chameleon shapeshifter energy, hypermobility, & finding the thread of our Self amongst the varying roles
11:30 – When you know who you are you can do anything without changing who you are
14:05 – Polarities within a horoscope create depth
16:55 – Mars in Cancer and arguing with our mothers
24:20 – Reckoning with getting what you want
Love Tea & Jyotish? Join Nectar of Time
Private Container to attune to the Sacred
Deep container for spiritual seekers 
Exclusive vedic astrology Tea & Jyotish sessions
Sacred stories from the yoga tradition to inspire wisdom & practice
Working with the devotional festivals of the vedic tradition 
Lifestyle teachings & practices
Bonus Yoga Practices
An opportunity to experience life as a ritual and celebration, anchored to the timeline of the Cosmos 

Monthly live Q&A with Kaya

Private Online Sangha for ongoing connection
Supreme Release Yoga Series to Soothe the Heart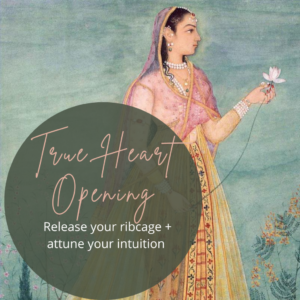 Releasing ribcage, Attuning Intuition
Most of what yogaland calls "heart opening" is actually overstretching and compressing the upper spine causing the ribcage to go on "lockdown". The result is a further disconnection of head & heart. 
This four week series coaxes gentle and real release of your heart – a place that holds the nectar of bliss but can be blocked by grief and pain. Opening the heart gently and directly results is an inner receptivity, stability, attunement to intuition and devotion.