Storytime & Deeper Meanings
7 min on the Wedding of Shiva & Parvati and how it manifests Within the realm of your subtle Sacred Spine
The night of February 18*, 2023 is the annual Mahāśivarātri, great night of Śiva – the auspicious one, the first yogi. 
The night in which the auspicious lord of dissolution is most generous to those who chant his names, listen to his stories, drench and decorate his forms with sacred offerings, and dance to his drum beat – the rhythm of the cosmos.
*February 19, 2023 in New Zealand and parts of Australia
Shivaratri is a celebration of the Divine as both transcendent and beyond the manifestation & here and now and alive in subtle realms within. During these sacred windows of time, the supreme calls you toward your own awakening.  
Today & tonight under this special Shiva moon you can celebrate & invoke Shiva. To invoke Shiva is to invoke the principles of…
Dissolution
Letting Go
Releasing
Removing what is obstructing you
and my favorite word for it…RESOLUTION
Devotion & Resolution under this extra special sacred, powerful nearly-new moon. The night is calling you to pray to release what no longer serves!
Sending you much love on this special day & night! Om Namah Shivaya!
Love,
Kaya
For a much deeper dive into these teachings….. 
Inside the Nectar of Time I share why this year's Shivaratri is so so special 
Inside the SRY Studio online we go deeply week after week into the subtle realms of the body to discover and explore how these meaningful principles are alive in YOU.
Deepen within with Kaya, where mystical meets Practical
Delve gently & deeply into your sacred spine & fall in love with a practice that will truly love you back.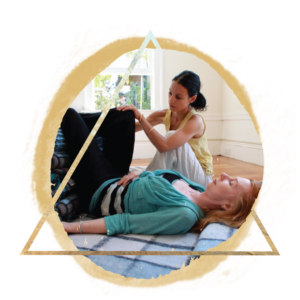 Gentle + deep, advanced + accessible. SRY works gently & directly with the spine as the source of healing and the realm of the mystical. 
Kaya's healing, therapeutic Supreme Release Yoga practices facillitate profound healing and reveal blissful states within by gently decompressing your spine, segment by segment. We emphasize your pelvis & heart for true transformation and nurturance at every level. 
The online SRY studio offers live practices and over 50 on-demand videos to support you at home. Every practice is a therapeutic, devotional & embodied expression of the illuminative teachings of true yoga. 
Attune to the sacred manifesting as time
Experience life organized and nourished by the sacred nectar of time. Each month is oriented to a special vedic festival of the month and Kaya shares profoundly helpful Vedic Astrology insights for the month, classical stories of the gods and goddesses with the deeper meanings revealed, scriptural and oral teachings of vedanta & tantra and, mystical practices that transform life into a meaningful ritual . Each month includes live teachings, Q&A, and bonus content to help you orient each month attuned to cosmic order.